Solving over 3,000 business challenges
Our clients apply our platform to a variety of use cases. From post-trade efficiency and tax processing. To employee trade surveillance and end user computing/database remediation. And to protect their business, through risk management and regulatory compliance.
Achieve operational excellence
Transform your business processes
Our focus is on bringing data and processes together, enabling you to confront your business challenges and optimize your company's performance. Providing a competitive market edge.
Trusted by the world's largest banks, our platform is highly configurable and elevates operational efficiency, enhancing critical business processes.
ISO 27001 certified. A platform you can trust.
How we can help your business
Key benefits
Our platform enables business users to automate their data flows, trust their data, digitize their processes end-to-end, and improve interoperability.
Create smarter data flows
Optimize workflows and enable business users to automate complex processes effortlessly.
Extract, curate, validate data
Extract and transform data from any source, delivering trusted data downstream for processing.
Solve repetitive interactions and avoid broken processes across your myriad business practices.
Easily interact with other systems for superior integration and faster business processing.
Using Xceptor has allowed Proxymity to easily review, standardize and process a myriad of differing data formats and content. This has helped us to minimize time to market and reduce in house technology resource requirements for processing new data sources, enabling us to stay focussed on delivering our core product propositions.
Jonathan Branagan
Head of Customer Onboarding - Proxymity
We can now focus on growing our business pipeline and take on additional funds. Xceptor allows us to significantly reduce the time and risk inherent in the migration processes and take on more complex work.
Head of Securities Services Business Unit - HSBC
We knew Xceptor would make a difference and are really impressed by how much it has delivered. Xceptor is the perfect flexible data management solution to fit with our aim of delivering superior service using leading technologies.
CIO - US Bank
We are delighted to be working with Xceptor in enhancing our ability to detect fraud and provide an even more secure service for our customers.
Aisling Kane
COO - Metro Bank
You can easily develop an application even if you do not have programming skill sets.
Director of Trade Operations and Services - Financial Services
We originally started this as a one-off project, but we quickly realized; if this is successfully reconciling documents from 15 years ago, why wouldn't we reconcile a document from today?
Global Head of Trade Validation - Leading European Investment Bank
We have a range of industry leading products, built on the strength of our highly configurable data automation platform. These include Reconciliations, Confirmations, and Tax Processing.
Reconciliations
Helping financial institutions to automate simple to complex reconciliations end-to-end, providing greater data transparency, accuracy, and control.
Confirmations
Helping financial institutions to automate, consolidate, and control the issuance and matching of multi-asset confirmations in a single system.
Tax Processing
Helping financial intermediaries to stay on top of ever-growing tax processes, handling data driven requirements for operational taxes more efficiently.
Industry focus
Our focussed approach to the financial industry
Understanding evolving market needs and constant regulatory change, we help financial institutions convert fragmented data into trusted, reliable sources.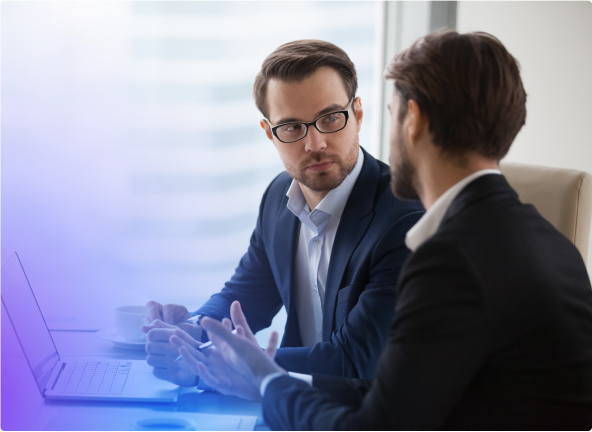 Featured insights and resources
Get our expert insights and resources to learn more about automating asset management processes, data management and how we're supporting financial services transformation.