EUCs are essential to your operations. Allowing you to respond quickly and effectively to changing business needs. But they represent risk, with EUCs in multiple locations, and incorrect or sensitive information being presented and reported. Read on to learn how to identify and manage EUC risks across your business.
---
What do you mean by EUC?
End User Computing (EUC), also known as End User Development (EUD), can be defined as custom applications created by end users without IT. These applications include Excel macros, Microsoft Access databases, and Visual Basic for Application (VBA) code, designed to enable users to automate manual repetitive tasks in a short amount of time, such as performing data transformation, reconciliation, and reporting activities.
Why do EUCs represent risk?
Zooming in on reconciliation activities, operations teams maintain various spreadsheets across the organization to perform non-standard and unstructured types of reconciliations. This process involves cleansing, aggregating, validating, reconciling, and reporting data to regulators. These manual processes are risky, resource-intensive, and time-consuming.
The risk of retaining EUCs in multiple locations and the consequences of presenting and reporting wrong or sensitive information can have financial consequences for your company. It is vital you identify, remove, and track reconciliation spreadsheets across your business to reduce operational risk. The EU's General Data Protection Regulation (GDPR) imposes strict rules on the collection, storage, and processing of personal data, which makes monitoring of EUCs even more essential.
EUC applications present a significant risk to your business if they are not managed properly. Regulators have started to put pressure on financial institutions to have better control over EUCs. The risk of misrepresenting data, or missing data, can lead to serious reputational and financial losses. The end users who are performing reconciliations on spreadsheets are unaware of personal information, data breaches, best practices, and approval processes to maintain them, which ultimately leads to a greater operational risk.
EUCs expose your organization to cyber-attacks, including malware and phishing that can compromise sensitive data.
The main challenges associated with EUCs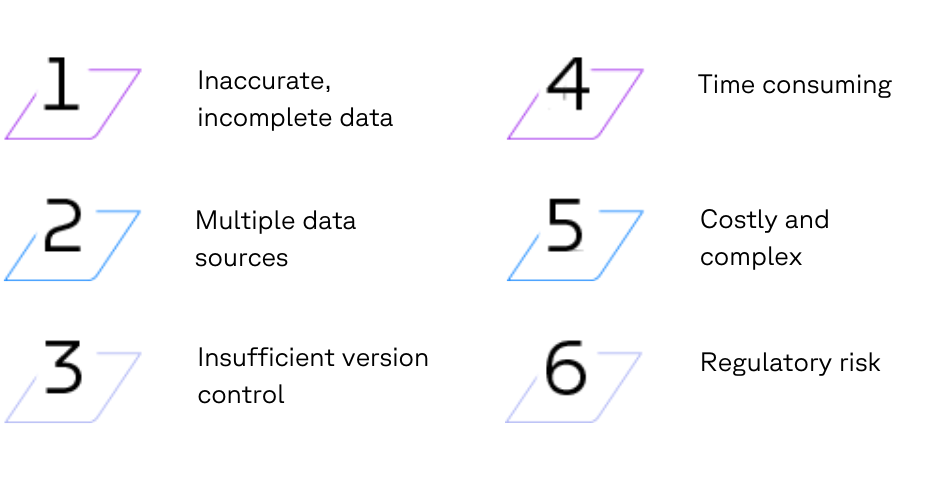 One of the main challenges of reconciliations is ensuring the quality of the data. Incomplete, inaccurate, or inconsistent data can result in errors, delays, and incorrect decisions. Unfortunately, at many organizations, reconciliations remain a laborious and time-consuming task, with teams preparing data and performing reconciliations manually using spreadsheets.
Manual processing of EUC based reconciliations are prone to human error and it is difficult to track user changes, as data is provided from various sources. The whole end-to-end reconciliation process is not properly documented, lacking visibility and a framework for risk control, making it extremely difficult for new owners to maintain EUCs. These spreadsheets are typically shared by multiple teams and entities through SharePoint, emails, and shared drives, making it difficult to track data accuracy and the latest version of the document. An absence of control measures exposes vulnerability, with no workflow and approval process.
Another challenge faced by the operations teams is to onboard new reconciliations quickly and efficiently onto an existing platform. The ideal onboarding process should take days, not months, but that is often not the case as existing solutions require the help of IT, increasing onboarding time. EUCs perform poorly and cannot scale to large volumes of data, and the cost associated with onboarding, or being unable to handle the complexity and size of a reconciliation, ultimately encourages end users to continue to perform non-standard reconciliations on spreadsheets. This approach is inefficient, and unsustainable, and severely exposes firms to many risks.
Steps to identify and manage EUC risks
Having a clear strategy to manage EUCs is imperative.
Identify multiple types of reconciliations that are maintained across your organization.
Prioritize high-risk reconciliations that have significant financial, operational, and reputational risks.
Define a clear strategy and timeline to remove spreadsheet-driven reconciliations across your company and identify the role of key stakeholders in the EUC program.
Introduce a framework to monitor, track and enrol new reconciliations to stakeholders.
Identify a flexible solution for end-users to onboard and configure existing and new reconciliations.
Migrate and manage existing reconciliations on a single enterprise-wide platform and maintain an inventory of all EUCs implemented across the firm.
How enterprise-wide automation solutions help to mitigate the risk of EUC-style reconciliations
Taking control of EUCs is essential to the success of your business. An enterprise-wide, automated, reconciliation solution helps your organization to manage EUCs across entities and provides a control framework to automate non-standard, unstructured, and EUC-style reconciliations on a single platform. This enterprise-wide approach to managing EUC reconciliations is beneficial as it involves a clear strategy, key stakeholders, IT governance, and technology, and covers all aspects of managing EUCs in a controlled environment.
An enterprise-wide automated reconciliation solution improves data accuracy, enabling data extraction from multiple sources and document formats. Automation also improves operational efficiency, delivering a faster service for a better customer experience.
A single solution approach delivers end-to-end EUC reconciliation capabilities including integration with existing and new systems, validation, and enrichment of data in preparation for a reconciliation, centralized version control, standardized workflow, audit log with user permissions, and advanced reporting capabilities to send the data to downstream systems or to meet internal/regulatory reporting requirements.
Benefits of an automated reconciliation solution




System integration Data validation / enrichment Version control



Smarter workflow Audit log Reporting capabilities
What's the return on investment (ROI)?
An ROI is quickly realized by migrating and managing existing reconciliations onto a single enterprise-wide platform, with benefits including:
Operational efficiency, which enables your teams to focus on more value-added tasks.
Improved customer service, resulting in satisfied customers.
Reduced business risk, preventing regulatory fine
Contact us today to learn more.