This is the second in our blog series, evaluating the impact of T+1, the first of which can be read here. In that blog we highlighted that, ahead of the 28 May 2024 implementation, firms must ready themselves for a raft of changes that will affect trade allocations, affirmations, and confirmation turnaround times.
---
A major impact to capital markets infrastructures by moving to T+1 is the reduced time for remediating sub-optimal account onboarding and account and sub-account opening processes.
With significant legislation and regulatory obligations around initial account opening, the process is likely to be fully completed pre-trade and prior to execution of the first order. However, there are elements of the account held static data which, if not in place, may impact the full and complete settlement process.
The move from T+2 to T+1 will mean many of these missing or incomplete elements will have to be remediated within the trading day or risk a settlement fail. This may increase risk exposure and create potential economic impact for participants through penalties or fines.
All steps of client onboarding and account opening can be generally improved through automation of non-formatted client requests. Where deployed, automation of these flows can be used to enhance existing validation, exception identification, and remediation management.
An example is where an account has completed onboarding detail and provided all settlement references and instructions for a particular asset class, but trades in another approved asset class requiring additional account reference data. Often this requires manual intervention by sending an email to the client or representatives, manually capturing data, and manually updating the account static.
Another common issue surrounds the creation of an additional clone sub-account. The new sub-account is provided by the trading firm as an allocation reference but the account opening procedure has not completed. The automatic highlighting of this exception type, and then targeting of it to the correct team for quick remediation, is key to ensure T+1 settlement.
The client communication and response can be automatically generated, captured, and used to both enrich the trade and update other internal and third-party systems.
Summary
A review of all existing processes around client onboarding and account opening should be performed ahead of the T+1 settlement cycle change, specifically for manual or sub-optimal, non-formatted requests. The following process steps should be considered.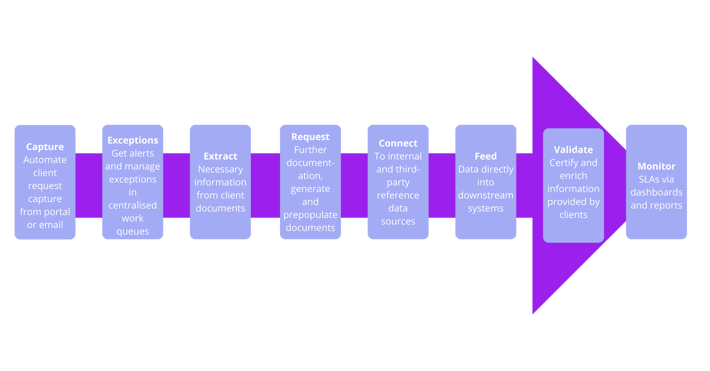 ---